FAQ's
Q: Does the InterchangeIT subscription provide interchange information between brands or simply provide details of the product in question. For instance, if I enter a Vicker's directional control valve number, such as, DG4V-3S........ will IT automatically give me the Continental or Parker or Nachi or Yuken or whatever part number equivalent or will IT only give me the specifications of the Vicker's number leaving me to look up the corresponding equivalent in the other manufacturer's product line?
InterchangeIT does provide catalogue-part-numbers from various manufacturers and several key specifications (Up to 35 specs/part) for those parts whenever available. As well, we list key replacement/maintenance parts whenever available. That's for each individual part number!
In addition to that, YOU CHOOSE which manufacturer(s) part number(s) you want returned - In a side-by-side comparison-format that would fit the application in a form-fit-function capacity. Then, YOU CAN COMPARE manufacturer's products SIDE-BY-SIDE! InterchangeIT is Giving YOU a choice , right now, without a catalogue, or a required specialist to access these skills and/or information. However, if you do require further assistance, InterchangeIT support is available anytime!
Example: Let's say you have any one of the valve manufacture's listed in our database, for example we'll use a YUKEN valve from our NFPA-D03 file. After you Log-In to InterchangeIT-Databases, if you typed in the number DSG-01-3C2-A120-N-6090

InterchangeIT would immediately show you that the number is listed, as well as some important valve specs - There are no charges to your subscription at this point. Try the FREE TRIAL today for an Interactive example!

When you click on the "Show-Spec" button, we would open the window showing all of the information that we have currently loaded for that product. Additionally, that click would Authorize InterchangeIT to reduce your subscription for the amount of that lookup - According to the subscription you chose.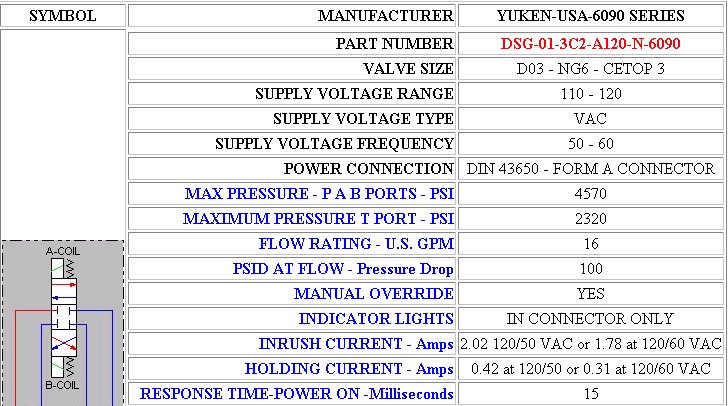 (Image only displays partial specification Listing!)
Immediately beneath the Yuken valve info would be displayed a listing of all other manufacturers that we have logged who make a possible interchange for the YUKEN product listed. At this point we show you who the other manufacturers are, and some brief specifications for each of the products that fit that potential interchange so that you may choose whose product you want to see based on your specification(s), requirement(s), and/or preference(s). YOU CHOOSE, right now, without further delay!
At this time when you click to choose the valve you wish to see in a side-by-side fashion with the YUKEN valve that would simultaneously authorize InterchangeIT to reduce your subscription the associated cost - According to the plan you chose. And you may continue researching products from any InterchangeIT-Database, in this manner, until all of your subscription has been consumed.
Think about IT. How long does it take to gather information from two (2) manufacturers and perform a cross-reference for one given Part Number? Longer than a minute? Now, how long would it require to cross-reference those parts, AND record up to 42-part- specifications for each one? Longer than a minute? InterchangeIT can provide over 50 product cross references in one (1) minute! As well, provide up to 42 specifications per part! In one minute! That's equivalent to gathering and recording ~2,100 pieces of data in one minute.
"Exercise Your Intellect" at InterchangeIT!
As a matter of fact, the above Yuken valve is an InterchangeIT listing for the given BOSCH part number 9810-231-004 as well as 36 others we have listed at this time. And yes, we do have Nachi, Vickers, Continental, Parker, Rexroth and most all others that are produced and applied within the industrialized world. As of 7/4/02, we have 23 product Interchange databases with more in the pipe-line to be published. The amount of detail we provide (even spare parts listings when available) is unprecedented in the industry. InterchangeIT@InterchangeIT.com
Q: Your databases are searchable by both Part Number and Part Attributes?
That's right, you can enter a full part number, or just a few characters of a part number, and we will return all of the potential parts that contain the characters you searched for. If you don't have a number, you may choose from multiple individual product characteristics and search for all products which have those attributes.
Our ON-LINE ACCOUNT-MANAGEMENT service allows you to review your account's complete lookup history anytime you are logged in..
InterchangeIT@InterchangeIT.com
Q: What is the Subscription plan and how does IT WORK for me?
SUBSCRIPTION PLANS: Our Subscription model is a "CREDIT" based plan. You decide how much usage credit you want to purchase from InterchangeIT and then use that credit to look up valuable product information today, tomorrow, or any time in the future. Unlike thick books that must be toted around and become outdated, not to mention the majority of information that you purchase in "hard bound" interchange guides is never used, when you subscribe to the InterchangeIT Guide, you will gain immediate access to all new updates, at no additional charge, that are added on a weekly basis. And the best part is, we offer several Subscriptions to suite your budget. If you only need to retrieve a few pieces of information, select the $10 plan to get started. If you trust our services and intend on using IT full time, a $1,000 plan will keep you going for up to 100,000 lookups. Not to mention, access to other services provided by InterchangeIT as part of your package. Like anything else, the more you purchase, the less we charge. And you only pay for the information you use. Eliminate waste today at InterchangeIT.com
InterchangeIT stores this cross-reference information electronically and allows you to GET WHAT YOU NEED and GET ON WITH YOUR WORK! As well, you gain INSTANT ACCESS TO ALL UPDATES MADE WEEKLY!
FULL ACCESS.................FREE UPDATES..............Did we mention?..............On-Line access to Certified Professionals! That's part of your subscription too.
EXAMPLE: Assume you Subscribed today for the $100 plan. Your credit card would be immediately billed the fee of $100, and your account would show a credit for $100. You would not be required to purchase further usage credits from InterchangeIT until you have viewed up to 1,000 product specifications - today, this month, next year or whenever you need them. If you are not 100% satisfied with our service, we will correct the issue! Satisfaction Guaranteed!! Contact Support with any concerns that you have for immediate answers to problems!! 30 day money back guarantee with all new subscriptions!
Q: Will my investment into InterchangeIT help me to reduce costs?
If you have to research & respond to 100 part numbers a week, or even more. How many hours does that take? InterchangeIT will dramatically assist with that information research in one mouse-click per lookup, 24-hours, everyday, from anywhere in the world!! Our services are shown to allow service personnel with no experience in the Control's Industry the ability to provide cross reference information to complex-part-numbers that must be generated from "How to Order" guides. In many cases, a subscriber will find that they already have the product they need to fix their problem, but its made by another manufacturer and they hadn't made the link due to different manufacturer's part numbers. As well, the InterchangeIT site is managed by Certified Professionals 24 hours, Everyday when you prefer additional assistance!
And for those seasoned in our industry, finally, a website that works for you. Reasearch parts, find alternative parts, purchase parts at industry minimum prices, and recieve personal assistance from Certified Specialists........all at your convenience.
InterchangeIT is a TOOL, constructed by Trained Professionals
Q: Does InterchangeIT store my credit card number on the Internet?
NO!, It is removed when you subscribe. You may also pay by check or money order if you choose. Contact Billing@InterchangeIT.com for further assistance to any questions you may have.
---
The InterchangeIT® Industrial Parts Interchange Guide is a service provided by
© 2000-2008, Turnkey Logic Control, LLC
InterchangeIT® is a Registered Trade Name of Turnkey Logic Control, LLC
ALL Rights Reserved